DigitalRosh:
Life Long Learning for Digital Leaders
Cancel, downgrade or upgrade at any time.
You can choose between three plans: BASIC, PLUS, and PRO: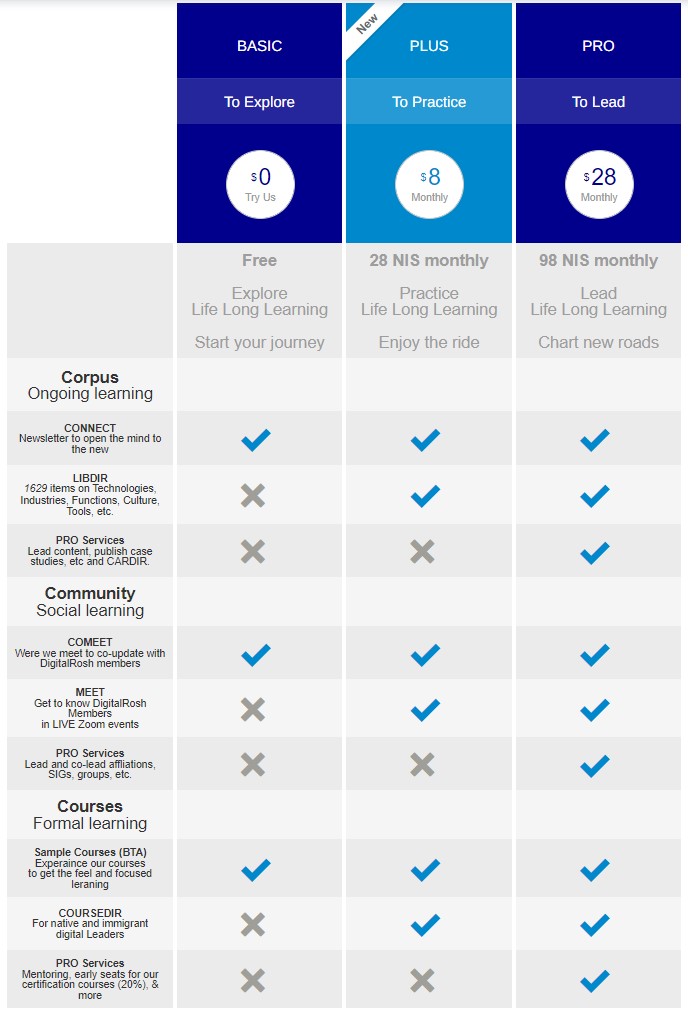 Corpus

Ongoing learning

Ever growing library of relevant content for digital leaders

CONNECT

Newsletter to open the mind to the new

Every Friday at your e-mail

LIBDIR2382

items on Technologies, Industries, Functions, Culture, Tools, etc.

LIBrary DIRectory: our unified method to search and find DigitalRosh Copurs Items.
TOOLs DIRectoy with guides and tools organized by type: parctical, managment, technological and more.

PRO Services

Lead content, publish case studies, etc and CARDIR.

CAReers DIRectoy with sample position in the area fo Digital Leadership and relevant positions for DigitalRosh PRO members.

Community

Social learning

Share, learn from each other, network & cooperate

COMEET

Were we meet to co-update with DigitalRosh members

COMmunity MEETings, over zoom. Past topics included the nature of LLL, the impact of Tesla, Ukraine war, and DigiatlRosh timely updates.

MEET

Get to know DigitalRosh Members

in LIVE Zoom events

DigitalRosh LIVE webinars for DigitalRosh members - keynote speakers, Q&A, updates and open discussion led by Jacob Eilon and Prof Yesha Sivan;
MEMbers DIRectory: present your experties, connect with other members and create opportunities.

PRO Services

Lead and co-lead affliations, SIGs, groups, etc.

Lead your group, organization or location within DigitalRosh.

Courses

Formal learning

Learn digital leadership with DigitalRosh and the Technion or other courses of different platforms.

Sample Courses (BTA)
Experaince our courses
to get the feel and focused leraning

COURSEDIR

For native and immigrant

digital Leaders

COURSE DIRectory - Curated courses from all over the world, many are free.

PRO Services

Mentoring, early seats for our certification courses (20%), & more

MENTORs get special training and serve as group leaders in our activiteis and courses. learn by teaching.
Free

Explore
Life Long Learning

Start your journey
28 NIS monthly

Practice
Life Long Learning

Enjoy the ride
98 NIS monthly

Lead
Life Long Learning

Chart new roads